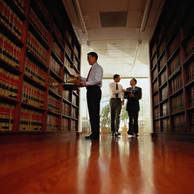 Before You Sign Up for Paralegal College...
You may be asking yourself if paralegal training is absolutely necessary. In a word: yes. Although California is the only state that actually requires paralegal accreditation prior to working in the field, it is a safe bet that other states will follow suit over the course of the next several years. And many law firms will not consider the resume of a person that is applying as a paralegal without the certification. The training you receive in paralegal college means much less "on the job" training the law firm will need to do with you as a new hire.

Additionally, getting certified as a paralegal is a great way to get training to ready yourself for working in a law office. You can even take that training further and get specialized training for working in practices that specialize in immigration, medical or entertainment niches of law. All of these will teach you how to do the research and handle common day to day issues.

You not only have a broad selection of specializations to choose from when you're deciding on your paralegal training, you can also get your accreditation via traditional day school, night school or jump into the hottest way to earn a degree in the present: online paralegal college.

You will get the same high level of training in an online course that you would receive in a brick and mortar paralegal school, the only difference is that you attend classes when it's convenient for you and you will have the same courses, same homework, same assignments and you will have the ability to interact with a course instructor on a one on one basis - something you do not get in a regular classroom environment.

If you're researching the viability of the paralegal field as something you'd like to pursue, look into getting credentialed through an online college, it's easy and painless to get the certification to start building a new, successful career you can be proud of.