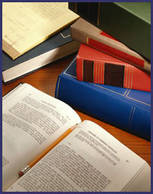 First Job or Returning to the Workforce? Consider Paralegal Work
No matter if you're fresh out of high school and wanting to go into a career that offers massive potential for advancement as well as a great salary even on the ground floor; or you have been in another professional but you don't feel satisfied with what you're doing- consider the paralegal field for gaining a financial edge career-wise and also doing something that you love.

Currently the only state that requires that a paralegal actually be certified through an accredited course is California. However, it's a good idea to consider getting certification as the majority of law firms will only hire individuals that have successfully completed paralegal training.

Now, comes another choice. Besides the type of paralegal work you may want to go into such as medical specializing law practices, immigration or bankruptcy - you will also need to decide how you wish to take your paralegal schooling.

If your lifestyle doesn't include a day job or small children, you can easily choose day classes for your paralegal certification. Individuals that work a full time job and/or have small children will find that night classes are an option you may choose. Also, more and more individuals are choosing to pursue their paralegal certification online. Online classes are the ultimate in convenience as you attend class when it's convenient for you to do so. If the baby had a colicky evening and you need to attend at ten o'clock at night instead of the usual time of eight o'clock you had scheduled for yourself, you can log in to your online paralegal course and find you didn't miss a thing.

No matter how you choose to get certified, there is huge room for growth and expansion as a paralegal. If you're ready to have a career instead of a dead-end job, start the process for getting your paralegal certification today.